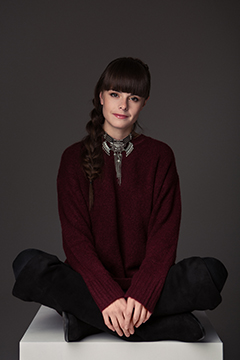 "Music has to fill the soul, that is its essence."
- Ditka
With this motto singer and songwriter  Ditka has been building her music story.
She stepped into the world of music as a little girl. Her father Gorazd, music teacher, pianist, composer, singer, impressed her with music and soon they began to work together. The story that is being written today is a combination of poetry of well-known Slovenian poets (Feri Lainšček, Tone Pavček, Marko Pavček, Ciril Zlobec) and author's music in English language.
"Ne bodi kot drugi", song of a poet Feri Lainšček which was tuned by Ditka's father Gorazd in 2012, has become very popular among listeners. In collaboration with the poet she has published two albums: "Ne bodi kot drugi" (2013) and "Ne spreminjaj me" (2016). Her current project are concerts of love lyrics, which she performs at prestigious locations (cultural homes, theaters, ...) in the company of Feri Lainšček and the accompanying band, part of which is also her father Gorazd Čepin. In 2016/2017 they sold out over 20 concerts around Slovenia. Ditka has done numerous independent concerts throughout Slovenia and concerts within major festivals such as Festival Pivo in Cvetje Laško, Arsana Festival, Lent Festival, ... Her purpose is to create quality music that does not leave a person indifferent and work continuously and in the long run, which is also evident on the basis of singles which she regularly issues. Ditka's music in English is well received at home and abroad, which is also reflected in success at various music festivals. She constantly upgrades her knowledge of singing and playing guitar. Currently she is vocally educating at BK Vocal Studio in Celje, but she started with prof. Nataša Nahtigal in Domžale. She graduated from elementary music school for guitar, then she did few years of private guitar lessons with prof. Andrej Ofak. Ditka regularly participates in music education / seminars at home and abroad (2011- "Jazz Camp Kranj", 2014- Singer / Songwriter Workshop - Yspertal, Austria, 2015 - "Michaela Singt", Vienna, Austria, ...).
Education and Success:
2017 - author's song "Silence" is ranked in the semi-finals of the music competition US Unsigned Only
2017- "Ne bodi kot drugi" exceeds 3 million views on Youtube
2016/2017 - over 20 sold out concerts in Slovenia
2017 - review of album "Ne spreminjaj me" published on the Dutch musical blog "Muziekwereld", Ditka was also selected for "Artiest van de Maand" / musician of the month
2016 - release of the 3rd album "Ne spreminjaj me"
2016 - she graduates from occupational therapy at Faculty of Health Science in Ljubljana
2016 - nomination for the "Zlata piščal" music prize in the "Newcomer of the Year" category
2016 - nomination for the media award "Žarometi" in the "Voice of the Year" category
2016 - performance in Sofia, Bulgaria
2016 - concert at Slovenian Embassy in Bratislava, Slovakia
2015 - the song "Silence" wins the competition of the radio Slovenia International "30 Years For You"
2014 - performs at several "Open stage" festivals in Vienna
2014 - start of education at BK Vocal Studio
2013 - release of the 2nd album "Ne bodi kot drugi"
2013 - author's song "Dreamer" is ranked in the finals of United Kingdom Songwriting Contest in Singer/Songwriter category
2011 - author's song "My guitar" is ranked in the semi-finals of United Kingdom Songwriting Contest in category of Love songs
2010 - author's song "So fine" is included on the album "Imamo dobro glasbo" of the radio Val 202
2008-2010 - singing lessons with prof.Nataša Nahtigal
2007 - finishes elementary music school for classical guitar at Ravne na Koroškem
2005 - wins at the biggest children's festival FENS in Slovenia with song "Album s slikami"
2004 - release of the 1st album with children's songs "V deželi mojih sanj"